The modular solution that supports Public Administration in digitizing agriculture
of governments for more than 30 years
Our technology helps to achieve the goals of land management and to address the major challenges of agriculture, which are necessary for the survival of the planet.
Streamline administrative processes through a modular platform integrated with the monitoring, management and control systems provided for the disbursement of CAP funds.
Simplify the process of allocating funds for the agricultural sector by "taking to the field" the updating, correction, monitoring and exchange of agricultural practices.
A revolutionary simplification of the relationship between paying agencies and recipients of funds for agriculture (farmers and agro-industry companies) through an innovative tool for managing activities to monitor and manage the exchange of agricultural practices, thus facilitating a more modern and innovative resource administration.
Responding to geopolitical dynamics and the challenges of climate change.
Promoting the adoption of sustainable agricultural practices along the supply chain, protecting the environment, soil and biodiversity, and respecting people and local communities.


Limiting environmental impacts in the production and processing chain.


Ensuring product quality and safety, from raw material control to processing.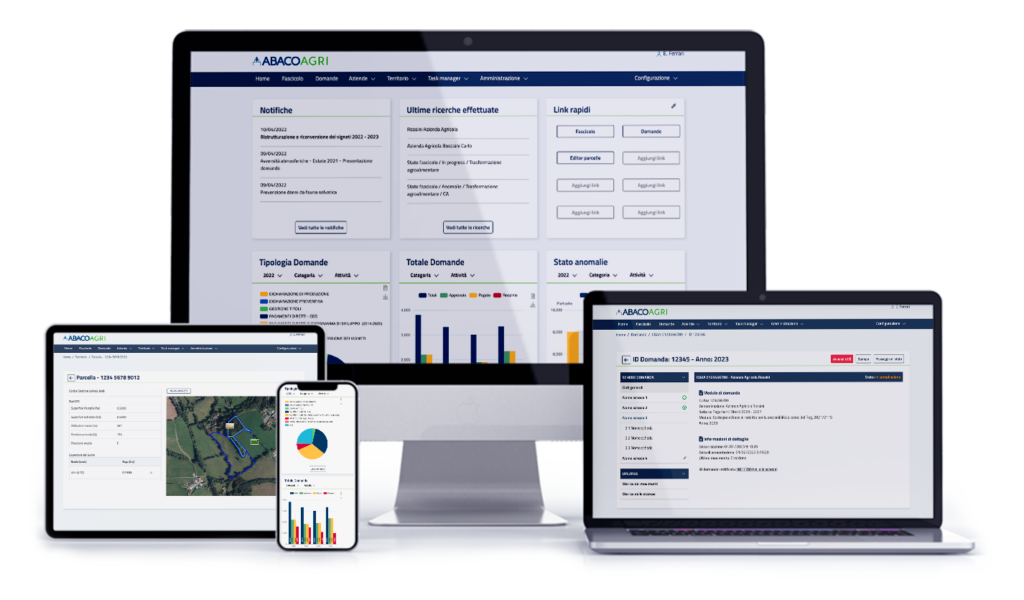 ABACO Agri, the most innovative platform for agriculture and agri-funds management.
With years of experience, both national and international, we are a key partner to many governments.
We have created a platform that can promote good innovative practices in line with the goals set by the EU strategy and anticipate the requirements of the new CAP in terms of its focus on performance and ability to monitor indicators related to environmental sustainability.